RE/MAX ID: 2691L
Location: Road to Dolores
This is one of two adjacent 1000 square meter lots with amazing views of the valley, mountains and SMA dam. They have a gradual slope from the back of the lots to the street at the front. Community well water and CFE electricity are readily available. They are located in Tematzcallis which is a 7-minute ride towards Atotonilco from the Ventanas Golf community entrance. The other lot is listed as RE/MAX property number: 2690L
A reasonably discounted offer for both lots will be seriously considered.
NOTE: The asking price for this property is actually $1,400,000 Mexican Pesos – the approximate US Dollar price of $82,000 shown here is based on an exchange rate of 17 Pesos per Dollar.
---
Ubicacion: Road to Dolores
Se trata de dos terrenos de 1,000 m2 cada uno de ellos, el propietario sabe que dará un sustancial descuento si se adquieren los dos juntos. agua de pozo del desarrollo y energía eléctrica disponibles, vistas a la presa y un suave declive descendente hacia el frente que permite un ambicioso proyecto arquitectónico a solo 15 minutos de San Miguel centro.
NOTA: El precio de venta de esta propiedad es de $1,400,000 MXN – que nos da $82,000 USD basados en un tipo de cambio de 17 pesos por Dólar.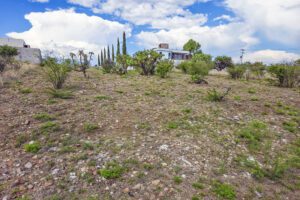 Agent
Javier Barras
RE/MAX Colonial - Real Estate in San Miguel de Allende
415 152-7363 / 415 152-7364
415 149 3453
Javier was born in Mexico City but moved to New York at a young age. After attaining his degree from Colgate University, he entered the construction industry as a partner in a building supplies company. Educating himself about quality construction..
Contact
Message has been sent successfully.